10.6.2013
Car dealerships expand, renovate in bid to keep rising sales parade going
Wisconsin State Journal
Karen Rivedal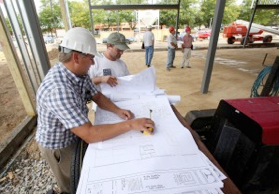 Chad Kemnitz, project manager with Professional Consultants Inc., left, goes over plans with Justin Krantz, electrician with Walser Electric, on the construction site for an ongoing renovation at Russ Darrow Kia at 6525 Odana Road in Madison. The project, aimed at expanding service and body shop capacity, includes a redesigned showroom, upgraded customer lounge, a cafe and a better children's play area, along with a new vehicle delivery area.

Moderate hiring and more than a half-dozen renovation or expansion projects are keeping Madison-area auto dealers busy through a third straight year of rising vehicle sales.

Two new dealerships, three renovations, one purchase and one relocation are among the projects started or finished in the past year. Russ Darrow, Smart Motors and Symdon Chevrolet improved dealerships, Don Miller Fiat and CarMax both added one, Zimbrick bought one in Sun Prairie and Don Goben prepared to move one of his used car lots further east.

On the job front, dealership employment statewide rose 9.5 percent between 2010 and 2012, the most recent Wisconsin data available from the National Automobile Dealers Association. Local dealers also reported some hiring, including a 16.7 percent increase at Madison's Smart Motors during the same period, from 201 to 245 people. It now employs 255.

Like many other dealers, Smart Motors froze employment in 2009 — identified as the low point for vehicle sales during the recent economic downturn — and has returned to modest hiring as sales rose again for most dealers in 2011.

"Our staff has been gradually increasing over the last 18 months or so, in just about every department," Smart Motors general manager Allen Foster said.

Nationally, 2013 new auto sales are on target for between 15.5 million and 16 million, putting them almost at pre-recession levels, said Bill Sepic, president of the Wisconsin Auto and Truck Dealers Association.

In south-central Wisconsin, annual sales were up around 13 percent in 2011 and 2012 and through August of this year, compared to the previous year. Dane County saw similar increases, most recently including August sales that were 11 percent higher than August 2012, according to Reg-Trak of Waterloo.

"It's been very good," Sepic said. "Barring anything we don't have control of, such as soaring oil prices, we should complete a pretty good year for sales."

But that doesn't mean dealers, here or anywhere else, can afford to pull back much from the budget-conscious deals, special promotions and elaborate mailings and marketing campaigns that consumers have grown accustomed to seeing since the downturn.
"It's probably even more necessary," Sepic said. "There's a lot of choice out there. There's certainly the dealerships who want to retain the customers they have, but who also want to reach out to new customers. With as much activity that's going on right now, you don't want to rest on your laurels."

"People are a little more practical after everything crashed," said Chad Ellis, manager of Russ Darrow's Kia dealership, which is being upgraded and expanded at 6525 Odana Road in Madison. "We're starting to see a lot more high-mileage trade-ins."

Russ Darrow upgrades
Beyond deals and promotions, dealerships also hope to sell more vehicles through improved showrooms and amenity-rich waiting areas, bigger body shops and upgraded services areas that they say will move customers' vehicles through paint jobs and oil changes faster and more skillfully than the budget retailers.

On July 1, Russ Darrow began a top-to-bottom makeover of its Kia dealership in Madison with many of those goals in mind. Ellis and his staff are working out of sturdy tents onsite through the end of the year, when the renovation is supposed to be finished.
"It's tough to see us now," he said. "You drive by and there's no building."

Ellis said the old dealership facilities — cramped, unattractive and "very outdated, very 1980s in the showroom," — were a good match for the "throwaway cars" that Kia used to make.

"They were junk," he said, before former Audi designer Peter Schreyer started transforming Kia in 2007, adding several models and dramatically upgrading style and quality across the brand. Many industry and independent sources, such as Consumer Reports, now consistently rank hot-selling Kia and sister brand Hyundai vehicles among their best buys.

The renovated showroom, following strict Kia mandates — down to the type of receptionist chair — will look nicer and display new and redesigned models better, Ellis said, including the Cadenza luxury sedan, introduced a few months ago, that Kia hopes can compete with high-end, full-size sedans from Lexus and BMW.

"You can't release a luxury sedan in a dumpy showroom," Ellis said.
The renovation also will add bays to the dealership's service area, redo the service drive and create a new vehicle delivery area — but there's one continuing challenge that the project can't address.
"We don't have the inventory that is needed at any location, in any Kia dealership," Ellis said, noting factories were at full capacity. "If we carried 150 cars last year, we're at 75 cars now, and we can't get more. We couldn't move the needle any faster if we tried."
Now at 50 dealership employees, Ellis said he expected that job number to double by next summer if business continues at the current pace.

Smart Motors does two projects
Just down the road at Smart Motors, 5901 Odana Road, the Toyota/Scion dealership will start an expansion of its service area on Monday, to double its quick oil-change stations from four to eight bays.

To be finished by the end of the year, the expansion will allow the dealership to offer the no-appointment service with a car wash to drivers of all makes and models, not just Toyota customers, Foster said.

"That express lube service is becoming a bigger and bigger segment of a dealership's business, to compete against the Jiffy Lubes and Valvolines," Foster said. "We do about 4,000 of those a month. We had anticipated doing 1,500 a month when it was built three years ago. That's the reason for the expansion."

Smart Motors also just finished a 40 percent expansion of its main body shop at 2225 Eagle Drive in Middleton. Purchased in 2010 and still known as Ball Body Shop, the facility was expanded to 28,000 square feet and upgraded with improved painting processes and computerized welding equipment, a better alignment rack and more body repair bays.

"The intention from the beginning was to make this our premier body shop for our customers," Foster said. "This was the year we expanded it in size and redid everything, the interior and the exterior. We added all new equipment. It looks great."

Smart Motors saw its biggest sales increase last year, when new vehicle purchases rose 34 percent over 2011 receipts, Foster said. It also opened a budget car lot last year down the street from its dealership, mostly featuring used cars priced under $12,000.
"Our used car sales increased during the downturn and have continued to increase," Foster said.

Another renovation project is nearing completion in Mount Horeb, where Symdon Chevrolet is getting a new showroom, entrance and service area with an additional 5,000 square feet, updated mechanicals and four new service bays.

Other area projects
Used car dealer Don Goben said the recovery in new car sales hasn't been hurting his operation, made up of two lots in Middleton and Madison.

There still are plenty of people who can't afford a new car or choose not to spend their money that way.

"Even if you want to buy new, still sometimes the affordability doesn't make sense," he said. "The average price (of a new car) has gone up so high."

To prepare for future growth, Goben broke ground in September for a used-car dealership at 2501 East Springs Drive in Madison. When the 5,900-square-foot building with five service bays is finished in about six months, he will move his Madison operation, now at Highway 51 and Pflaum Road, to the new location.

Goben said the new space will let him double the amount of cars he stocks. He also wants to leave his current location because of concerns over compromised visibility after the city reconstructs Highway 51 as planned sometime in the next 10 years.

Used car retailer CarMax also is planning to enter the Madison market in the next few years, with early demolition work going on now at 6601 Odana Road. The Richmond, Va.-based company provided little information, but a letter to city planners from local project engineers Vierbicher Associates notes the dealership sales building would be 20,600 square feet, with a car wash outbuilding and six service bays.

CarMax expected to employ 75 to 85 people at the dealership, most of them hired locally.

Additionally, Don Miller Group brought a new vehicle brand to the Madison area this year, when it opened Don Miller Fiat at 5751 Tokay Blvd. in Madison.

And one dealership changed hands this year, when Madison-based Zimbrick Automotive Group bought Stark Chevrolet in Sun Prairie in September.

Read more: http://host.madison.com/business/car-dealerships-expand-renovate-in-bid-to-keep-rising-sales/article_695e300a-899a-557d-9b1d-2a891def8c78.html#ixzz2h381boPM