6.24.2013
Smart Motors provides two free charging stations for hybrid, electric car drivers
Wisconsin State Journal
Karen Rivedal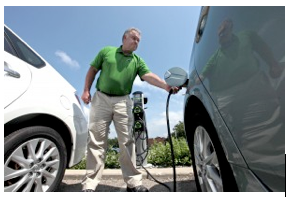 John Dolan, hybrid specialist with Smart Motors in Madison, demonstrates one of the dealership's new battery recharging stations for hybrid and electric vehicles Tuesday. The two stations cost the dealership a total of $3,000 to buy and can be used for free by any driver of a plug-in hybrid or electric vehicle.


Smart Motors this month bought and installed two charging stations available free, 24 hours a day for drivers of electric and plug-in hybrid vehicles.

The longtime Toyota and Scion dealer at 5901 Odana Road is the Midwest's largest hybrid dealer. It sells vehicles including the plug-in Prius and, eventually, an all-electric RAV4 that's being tested now in California.

But customer service was just one reason for doing it, Smart Motors hybrid specialist John Dolan said. The company would have no problem with drivers of Nissan Leafs or other non-Toyota vehicles pulling up to use the stations on a first-come, first-served basis.
"Our loftier goal is to make transportation greener," Dolan said. "Most of the pollution outside of the utilities comes from transportation."

"We want to expand use of the technology," he added. "We want to make it easier for people to accept it."

Tim Erdman bought his most recent Toyota Prius, a new plug-in version, from Smart Motors last year. He said he was grateful for the added stations, because they add a few more options to the Madison area's relatively limited charging network for green vehicles.
"The more, the merrier," he said. "Absolutely."

Erdman, chairman and CEO of Erdman Holdings, said he has driven Priuses since they first were introduced in 2000.

And, like most drivers of plug-in hybrids and all-electric vehicles, Erdman said he does most of his charging every night at home in his garage. The Prius uses a handy, built-in cord that can be plugged directly into a household electrical outlet.

But having free charging stations around the area is helpful if power runs low because of unanticipated extra driving.

The Madison area's network of charging stations, anchored by about 30 stations provided free by Madison Gas and Electric, is pretty good going east to west but not as plentiful or convenient to the north and south, Erdman and Dolan said.

"That's a good spot for one," Erdman said about Smart Motors' Odana Road location. "Smart's been very good about encouraging this."

Dolan noted another plus about the dealership's two stations, which can fully charge a Prius in 90 minutes off the 240-volt electrical system they use.

"Most of us in our home have 120 volts, so that 90 minutes becomes three hours (at home)," Dolan noted. "The 240-volt cuts it in half."

Read more: http://host.madison.com/business/smart-motors-provides-two-free-charging-stations-for-hybrid-electric/article_0bc17e33-7286-5106-9d3d-222016a2aede.html#ixzz2Xtn1t7ID