04.08.2013
Restaurateur finds a different Janesville than he expected
Janesville Gazette
Jim Leute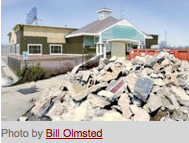 Renovation has begun on the former Damon's restaurant on Janesville's northeast side. The site is being redeveloped as a Quaker Steak & Lube restaurant. Scott Acker, who is developing the business, said he was surprised by what he found when he visited Janesville. 'I came to the conclusion that Janesville is just as strong as anywhere else I'm at,' Acker said.

JANESVILLE — Scott Acker visited Janesville last year with an idea of what he would find.

He expected a nearly destitute community, one with blocks and blocks of properties in distress and little economic activity, all the result of General Motors' departure.

"That's the Milwaukee-Madison view of Janesville," said Acker, who owns and operates Quaker Steak & Lube restaurants in the suburbs of each city.

"I just didn't see it," he said.

As he considered opening a Quaker Steak here, Acker did his homework on Janesville. He read reams of economic and demographic data and drove through the city's neighborhoods.
He found a downtown that's just as strong as any other. He found vibrant neighborhoods with few signs of distressed homes.
He also found that retail trade is solid, particularly along Milton Avenue and the city's north side, where he focused his interest. He learned the community had more white-collar workers than blue.
"I came to the conclusion that Janesville is just as strong as anywhere else I'm at," said Acker, referring to his restaurants in Middleton and New Berlin. "The business-to-business community—Forward Janesville—is stronger than any other community I'm in.

"And the other thing is that the people of Janesville are just so generally nice."

Acker pulled the trigger on Janesville, agreeing to lease the building at 3111 Wellington Place, the former Damon's Grill. Sara Investment Real Estate bought the property and is leasing it to Acker's Sting Ray Hospitality Group.

The building has been gutted to its studs and will undergo an extensive renovation.

Acker said the motorsports-themed restaurant should open in July.
He recently closed his Quaker Steak on State Street in Madison, an operation he referred to as a "fish out of water" near a campus where student spending dropped during the recession.

The Janesville restaurant will eventually employ more than 100 people.

The restaurant's entrance will face Highway 14, about where Damon's hung several big-screen televisions.

"I'm not a fan of a having the main entrance and the bathrooms together," he said. "We want to repurpose as much of the building as possible, and bathrooms are really expensive to move.

"Plus, with the entrance facing Highway 14, people can see it."
Acker plans a new kitchen, and the restaurant will have a drive-thru.
"Our main competition is probably Buffalo Wild Wings," he said.
"They're known for their wings and so are we, but we've won more wings contests than anyone."

The original Quaker Steak & Lube opened in 1974 in an abandoned gas station in Sharon, Penn., as a cook-your-own steak restaurant, according to the company's website. After a visit to the Anchor Bar in Buffalo, N.Y., the owners added chicken wings to the menu. The restaurant has won more than 100 national and international awards for its wings and sauces.

It now has more than 45 locations in multiple states.

Damon's closed in May 2010, the result of what operators said at the time was a difficult economy. It focused on casual fare in either a quiet dining room or in its clubhouse with a multi-screen entertainment system offering sports, network programming and interactive games.