03.11.2013
Hybrid-electrics race for mainstream and high-end buyers
E&E Reporter
Julia Pyper

They may not be there just yet, but hybrid vehicles of all types and sizes are gunning for mainstream status.

Traditional hybrids -- which run on petroleum but save fuel by capturing lost energy with an electric motor -- are still considered to be in a class of niche electrified vehicles, along with plug-in cars like the Chevrolet Volt and the Nissan Leaf.

But hybrids appear to be pulling away from that group. The Toyota Prius hybrid has been on the market for more than a decade and is slowly becoming a household name. Meanwhile, the total number of hybrids for sale is expected to grow from 42 to 73 options by the end of next year.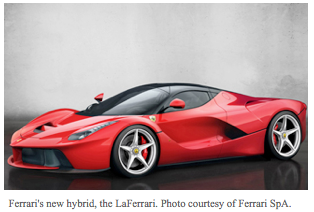 They're also cropping up at the very high end of the market. Ferrari SpA and McLaren Automotive, two of the world's top sports-car makers, both unveiled hybrid supercars last week at the Geneva Motor Show that will soon go into production.

LaFerrari, successor to the Ferrari Enzo, is the automaker's fastest road car ever and the first car to feature hybrid technology known as HY-KERS, adopted from the Formula 1 racing circuit. The car has a 789-horsepower V12 engine linked to a 160-horsepower electric motor and a chassis made of carbon fiber. Ferrari says the result is a vehicle that delivers both maximum performance and lower emissions.

McLaren also went for hybrid technology in its new flagship supercar, the P1. The twin-turbo gasoline V8 engine combined with an electric motor delivers 903 horsepower and 663 pounds of torque, which means drivers can hit 62 mph before counting to three.
McLaren set out to make the P1 "the best driver's car in the world." To do that, "the best all-round solution, we quickly deduced, would be a petrol-electric engine," said Chief Design Engineer Dan Parry-Williams in a statement. "It gives us very high levels of power, instant torque and terrific fuel and CO2 figures."

Approach 200 mph more efficiently
The LaFerarri produces 330 grams of carbon dioxide per kilometer, which equates to roughly 17 mpg. The McLaren P1 -- which is designed to run on electricity alone for a few miles at a time -- gets 200 g/km CO2, which equates to about 27 mpg.

Those numbers may not seem too impressive compared to a Toyota Prius' U.S. EPA combined rating of 50 mpg. But then again, a Prius can't get anywhere near 200 mph. On the other side of the coin, these supercars will only roll out in small numbers and with price tags north of $1 million.

Hybrid technology is also making its way into big people-movers, a far cry from sports cars. Volvo Group received its largest order ever of 475 diesel hybrid buses last month from the province of Quebec. The Nova Bus offers about 30 percent lower fuel consumption and greenhouse gas emissions compared to conventional diesel-powered busses.

But the place where hybrids will have the greatest impact on fleetwide fuel economy is the passenger car and light-duty truck market, which makes up more than 17 percent of all U.S. greenhouse gas emissions, according to data from the Department of Transportation.

Hybrid vehicles currently account for 3 percent of all U.S auto sales, and that number is forecast to rise. A poll conducted last year by Harris Interactive found that one-third of car owners, or 32 percent, said they were interested in purchasing a hybrid vehicle and 23 percent said their interest in hybrids had increased from a year ago.

Toyota sees Ford in its rearview mirror
Toyota Motor Corp. is by far the leading hybrid automaker, thanks to its Prius lineup and new hybrid versions of the popular Camry and Avalon passenger cars. But Ford Motor Co. is looking to give Toyota a run for its money with the new Ford Fusion and C-MAX hybrids.
Ford already reported record-setting hybrid sales in December, when its market share jumped up 9 points to 16 percent. Toyota's share dropped 8 points over the same period, from 68 percent to 60 percent.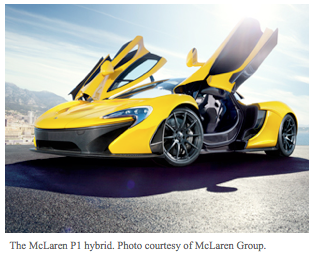 In a new commercial ad campaign, the Ford C-MAX hybrid goes head to head with Toyota's Prius V. Both are larger, more family-friendly vehicles than the traditional Prius hatchback, but Ford drives home the fact that its car gets better fuel economy, with a 47 mpg combined rating over the Prius V's 42 mpg.

The C-MAX "really is a competitor to the Toyota Prius, which has really dominated that hybrid market here in D.C. and nationally," said Lisa Vigneault, head of Ford's Washington, D.C.-area regional sales and marketing team. "We think we've got a great alternative to that product that gives you really superior interior functionality, looks good, great styling and obviously great fuel economy."

The fact that these two hybrid cars are publicly competing with each other shows that the technology has achieved a high level of consumer acceptance, said Dave Hurst, senior research analyst at Pike Research, a part of Navigant's Energy Practice.

"I don't think that consumers think of hybrids as a weird technology anymore," he said. "I think there are enough people now that are driving them, enough people that know somebody who has one, so they realize they're kind of the same as [every other car]."

Rising pump prices help
Vigneault said Ford hybrid sales in the Washington, D.C., area have skyrocketed. Last year, Fusion Hybrid sales were up 21 percent across the region, and in January, a third of all Fusion sales in the area were hybrids. After Los Angeles, Washington, D.C., is now the second-largest market for Ford hybrids of all types, she added.
But hybrids aren't just popular along the coasts. Allen Foster, vice president of Smart Motors, Wisconsin's top-ranked Toyota dealership, said hybrids represented about 25 percent of his total car sales in 2008 and make up 40 percent of sales today. Ford hybrid sales in the Midwest are also beating expectations.

Having more hybrid options on the market, including larger vehicles like the Toyota Highlander Hybrid SUV, has attracted more customers. And so have rising gasoline prices. "Before, we had to explain hybrids and what they were to customers, and now people are coming in asking about them," said Foster.

The 2013 Volkswagen Jetta Hybrid and the 2013 Honda Insight Hybrid, among other new offerings, will also bring more competition to the market.

"A very significant portion of shoppers out there are considering hybrids. It's making it into their consideration set," said Patricia Piedrahita, marketing manager for Ford C-MAX hybrids. "[Car companies] are figuring that out and providing more alternatives and giving people more choices, so it's only going to get more competitive."

But hybrids aren't competing only among themselves. They're also going to have to square off against regular gasoline-powered cars and other advanced vehicles.

"We definitely see hybrids growing, but I don't know that they'd grow to be mainstream," said Hurst of Pike Research. "As traditional internal combustion engines become more efficient, the cost of the hybrid becomes less attractive." Hybrids still have about a $2,000 to $10,000 price premium over their regular gasoline-powered counterparts.

"On top of that, we're seeing pretty strong growth on the plug-in side," he said. "The folks that are buying these vehicles for environmental reasons, we expect, will go for a plug-in."