11-14-2010
Executive Q&A: Smart Motors Weathers the Storm at Toyota
Karen Rivedal
Wisconsin State Journal
ALLEN FOSTER
General manager and vice president of Smart Motors
Education: Bachelor's degree in corporate finance from Ohio State University; 1989 graduate of General Motors School of Dealership Management
Family: Married, four children
Employees: 206
Sales: $130 million in 2009, $140 million in 2008
Business address: 5901 Odana Road
Website: smartmotors.com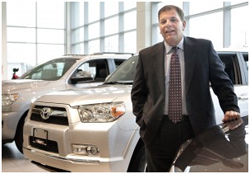 Allen Foster is general manager and vice president
of Smart Motors, which saw record sales of $140 million in 2008 and is on pace to hit that number again this year, Foster said. KAREN RIVEDAL – State Journal
By anyone's estimation, it's been a tough year for Toyota Motor Corp. and its customers worldwide.
Especially in the first quarter, it was hard to avoid hearing about the company's mounting woes, including a series of safety related recalls, reports of fatal crashes and hearings for top brass before Congress.
Buyer interest tanked during this period, even as American car companies began to enjoy a resurgence of quality products, profits and goodwill.
But at Madison-based Smart Motors, a 102-year-old, family owned Toyota dealership on Odana Road, staff managed to more than weather the storm, said general manager and company vice president Allen Foster.
With extra attention to customer service and the luxury of a large client base that remained loyal to the brand, Smart Motors was able to power through the crisis and is finishing 2010 on pace to match the record sales of $140 million posted in 2008, after a 7 percent sales decline in 2009.
"Taking care of the customers, giving them excellent service, was our No. 1 goal, after keeping them safe," Foster said. "We went out of our way to accommodate people."
Q: How are sales now?
A: Sales for us are good. We've been increasing our market share, which means that in the total percentage of cars sold in our market, we're selling more of them. For the last two months, we've been the No. 1 volume Toyota dealer in the Midwest, a five-state region.
Q: In June 2009, Smart Motors posted ads to hire 10 more sales people, but you had trouble finding candidates. Did you get your hiring issues ironed out or do you still need more people?
A: We have been bringing aboard people since then. Our employee count is up about 15 percent from where it was last year at this time.
Q: Did the recession cause any cutbacks at Smart Motors?
A: No, not really. We realigned some staff, and early on we did some job sharing. We took about two months when we were trying to see what was going to happen, with a hiring freeze in December 2008 and January 2009. But from the time the economy tanked to now, our employee count is up about 25 people.
Q: Prior to joining Smart Motors as a financial consultant in 1995, you spent about a decade working short stints in different locations as a dealer consultant for General Motors and other automakers. What was it about Smart Motors that convinced you to stay in one spot, becoming general manager officially in May 2005 and being appointed a vice president in October 2009?
A: It was the travel I didn't like (about the previous jobs). As soon as I would get a dealership under control, I'd have to go off to another project. I couldn't establish any long-term relationships with customers and employees.
As for the Smart family, just everything about the company worked for me. I shared with the Smart family a customer philosophy you don't always get (elsewhere).
That was the problem working at some of the other places. They didn't always understand that great customer service was the key to success. A lot of people talk about it, but it costs money to execute it properly. So other dealerships would sometimes fall short on this.
Q: Since the bailouts, U.S. automakers are seeing a renaissance, with better sales and higher quality, more fuel-efficient vehicles. Ford, which didn't even take bailout money, and General Motors both have been widely recognized for their improvements. Does that worry you in a competitive sense, or do you welcome it as good for the overall industry?
A: We're glad to see it, and it will certainly help the economy once we're all selling cars again.
We've all along said, "The more manufacturers involved, the better." It helps us all. Everyone today is sharing the same suppliers, and there's some synergies with manufacturers sharing technology. They borrow ideas from one another.
Q: Last year's Cash for Clunkers program in July and August was the government's main incentive program for automakers. Do you feel it added any sales that you wouldn't have gotten anyway, perhaps later in that year?
A: I believe it definitely sold more vehicles for us than we would have that year otherwise. The confusion to that program is that when it ended, for the next two months, dealers didn't sell as many cars and had some pretty bad months.
But that was because we had no inventory to sell. We were just waiting for the manufacturers to catch up with that demand. All manufacturers had the same thing happening.
The program itself certainly had some flaws, but it did what it was intended to do. The truth of the matter is that car sales are one of the biggest contributors to our total economy, from a dollar standpoint and from a work standpoint. It sounds self-serving, but it seemed like the best way to stimulate the economy was through auto sales.
Q: What's your forecast for the next few years?
A: I think we're going to have a robust 2011. We've been, annually as an industry, selling anywhere between 10 to 11.5 million cars nationwide, and the driving population (in the past few years) has increased considerably.
And considering that, annually, about 13 million cars get destroyed or are done with their useful life — if you just do those calculations, it says we're behind and there's some pent-up demand. The only question is how soon that demand kicks in.
Q: In May, Smart Motors bought a second body shop in Middleton to expand its collision repair services to all makes and models. What other changes are coming?
A: Next year, we're going to be looking to build a new pre-owned facility that will closely resemble our new Toyota dealership. We've acquired some land (at the company's used-car lot across from the dealership), so we're going to be building a new facility to expand our used-car inventory and give those customers the same amenities we offer here.