08-19-2010
Executive Q&A: Glass Slipper owner builds long-term relationships
Karen Rivedal
Wisconsin State Journal
HEIDI UHRIG
Broker/owner of Glass Slipper Homes

Age: 35

Family: Married
Education: Attended Butler University in Indianapolis
Address: 6666 Odana Road
Founded: January 2009
Website: glassslipperhomes.com
Employees: Two
For Heidi Uhrig, successfully buying or selling a house for somebody isn't the end of a process. It's where things really start.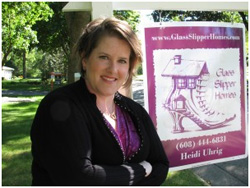 Heidi Uhrig, a former Keller Williams real
estate agent, opened her own company, Glass Slipper Homes, early last year. Uhrig works as a broker/agent out of her home in Madison.
"I frequently have clients call me months, even years, after a sale to ask for recommendations regarding remodeling, furniture shopping, appliances, you name it," said Uhrig, a real estate agent since 2005 and broker/owner of her own independent real estate company, Glass Slipper Homes, since last year.
"Sometimes the questions are pointed towards what might bring a better resale price, sometimes it is about where to find a great product at a great price," Uhrig added. "As my network grows, so do my resources and the level of service I can provide — beyond the transaction."
In her six years in real estate, Uhrig said she's had several repeat clients, including one couple she has worked with three times, helping them to buy a house, sell the one they were in and then helping them buy again some years later. It's no accident that one transaction often leads to another, she said.
"I'm able to connect with people that I enjoy working with and who have the same level of integrity I do," she said. "I enjoy working with fun and smart people, because I focus on the long-term relationship."
Early in her career, Uhrig said she received a good foundation of training at the west Madison office of Keller Williams Realty.
Uhrig said she appreciated being able to access the built-in resources of a big company. But as she learned more and developed her own network of contacts, she decided it was time to get a broker's license to open her own office — realizing a goal she had set from her first day as an agent, she said.
"It's part of my personality, part of who I am," said Uhrig, who employs an assistant and one other agent in her company, which she runs out of her home. "Being resourceful is really what being a business owner is about."
Q: Does it feel risky to be out on your own, in a real estate market that's become more challenging post-housing boom, especially now that the federal tax credit for home purchases has expired?
A: It does not feel that way to me. It feels natural, because if there needs to be a change in policy, for example, I check with my attorney and I put it in my policy manual. I like that part of it. And I come from a long line of people who were business owners, on both sides of my family.
Q: What do you like best about your job?
A: The moments where you really have succeeded beyond your client's expectations. I had a client I was working with as a buyer's agent, and we ran into some snags with the appraisal (on the property the buyer wanted).
We eventually came up with a solution, and on the day we did the final walk-through, she's standing in the middle of the room and she said, "I can't believe it's finally going to happen," and little tears were rolling down her face.
That makes everything else worth it. You've succeeded when you've made your part of their dream come true.
Q: What's least appealing about owning a company?
A: The paperwork. There's a lot of it, more than anyone could ever imagine. That's why I had to have an assistant come in and help me keep on top of it.
Q: What is the local housing market like now?
A: It's one that requires more patience. There's less urgency. Buyers are more relaxed because there is no financial push for them to make a decision (with the tax credit expired now.)
Buyers are taking more time, (in part) because there are so many options. There's so much inventory. And there's rumblings that Bank of America will be starting to release their foreclosed homes (to the market), so there will be even more out there.
So sellers who are thinking about selling next year might want to reconsider. If they can sell earlier, that's a good idea, because at least we know where the market is now.
Houses have turned, in some people's minds, from being not so much a home as a commodity. People are really paying attention to what their house value is right now. They're thinking about that aspect of it, instead of, "This is my home. I love it. I'm going to be here forever."
Q: What's your advice to someone trying to sell?
A: You need to know what the market is doing, not just on your side of town but in your neighborhood. And then (figure in) the condition of the house. And it absolutely needs to be priced accordingly.
One thing I do sometimes with my sellers is take them through their competition and show them, "These three houses are priced the same as yours, but they have granite and updated bathrooms. The buyer is going to choose one of those three first."
Q: Is that a hard conversation to have with sellers?
A: It's definitely one that we didn't have to have (as much) before. There's a lot more counseling that is going into selling a home now, as far as the price point where the house will sell.
Pricing it higher means you'll spend more time and probably get less than if you started out with an aggressive price point to begin with. We're still seeing multiple offers at an aggressive price point. Because the buyers are ready to recognize, "That's a deal and I want it."
Q: What's your advice for buyers now?
A: We're doing more counseling with buyers, too, about making sure the house they purchase is something they can afford to maintain.
And when they find a house they really like, I always tell them to take that evening to think it over, and to come back when they're done with work, park their car and go for a walk in the neighborhood. See what the neighborhood is like when they'll be home, and how it feels.
We spend more time test-driving a car sometimes than buying a home.
And when they're sure, I also encourage people not to wait too long (to make an offer). It's only a buyer's market if there's one buyer.