I have to admit that while I love chicken, I have no use for chicken wings and have no idea why they are so popular. The small, bony suckers are slippery, difficult to eat and yield little meat. The one time I enjoyed eating them was at Quaker Steak & Lube when it opened in Middleton in 2004. The wings seemed to have more meat than most and all of the sauces were fantastic.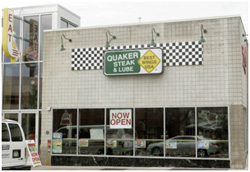 Local franchisor Scott Acker opened a second
location of Quaker Steak & Lube July 17 downtown on Gorham Street, just off State Street. KYLE MCDANIEL — State Journal
I had fun eating them again recently at the new Quaker Steak & Lube downtown on Gorham Street, just off of State Street, where local franchise owner Scott Acker opened a second location July 17. They are the only two Quaker Steak & Lubes in Wisconsin; there are locations in 13 other states and one in Toronto.
It was at the new downtown location where I discovered a terrific option for people who don't understand the fascination with buffalo chicken wings: breaded boneless wings ($5.99 for a 6-pack, $8.99 for a 12-pack).
The panko-crusted morsels of chicken were "lubed up" with the distinctive Thaisian sauce. They came in a cute little egg carton and I couldn't get enough of them. All wings are served with either carrot or celery sticks.
On another visit, an order of wings included in the ribs & wings dinner ($14.59) was mostly chicken drumsticks, which didn't bother me given I usually don't go for wings, anyway. They were fine, and the little drumsticks, covered in a spicy Arizona ranch sauce, were good eating.
The baby back ribs were small and lean, with not as much meat as recent versions I've had at Brickhouse BBQ and Porky Pine Pete's. I loved the tequila lime barbecue sauce, which was slightly sweet and satisfying.
Customers can choose from a list of 22 sauces, which is one of the best features of the restaurant. There's a chart on the menu that denotes the heat of each one, ranging from milder ranch and honey mustard to supercharged and triple atomic, described as "guts, glory, pain" All the sauces I tried were perfectly applied to the wings or drummies.
Another good choice is the buffalo chicken flatbread ($6.99), a substantial and crisp foundation topped with a spicy barbecue sauce and small pieces of chicken coated in hot sauce, plus provolone and blue cheese, red onions, celery and scallions. My only complaint was that it could have used more chicken.
"It's hot. My mouth is on fire," a companion said.
Meanwhile, the hot rod chicken sandwich ($6.99), was a disappointment. An enormous chicken fillet stuck out from both sides of the soft, sesame seed bun and was topped with melted provolone cheese and Arizona ranch wing sauce. The heavy breading was unappealingly salty.
The sandwich came with either chips, fries, steamed broccoli, bourbon baked beans or coleslaw. The broccoli was perfectly cooked, although it could have used some butter and seasoning. I ended up dipping the florets in a blue cheese sauce served with the dish.
A companion ordered the gyro ($5.99), and compared it to the first-rate gyros served down the street at Parthenon, but said it had less meat, though it wasn't as greasy.
"I could easily eat two of these," he said. He didn't finish the generous order of skins-on fries that came with it, complaining that they suffered from freezer burn.
Quaker Steak & Lube bills itself as America's No. 1 motorsports-themed family restaurant, and customers are surrounded by car paraphernalia, including the rear of a Corvette and a full-sized Volkswagen Karmann Ghia covered in car photos. There's also a UW-Madison Badger section, of course, and we sat next to a photo featuring UW-Madison's fuel efficient FutureTruck.
"I never thought you'd take me to a place as nice as this," my companion joked as he took his seat.