07-22-2010
Internet company sees future in snail mail
Mike Ivey
The Capital Times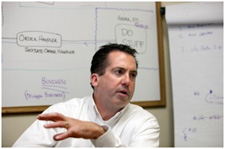 Brian Euclide is president of Sun Prairie startup
company TEC Mailing Solutions, which has launched a unique web-based product that lets direct mail users update their own mailing lists to eliminate old or duplicate addresses. STEVE APPS -- State Journal
Even in these days of e-mail and the Internet, direct mail marketing — like it or not — remains one of the most effective ways to reach a targeted audience. Whether from a political candidate seeking a vote, a charity seeking a donation or a business looking for customers, "snail mail" does get noticed.
Sure. A lot of junk mail ends up in the recycling can.
But a 2007 survey from the U.S. Postal Service shows that 48 percent of recipients actually read unsolicited advertising mail and another 33 percent at least glance at it. Those are pretty good numbers.
A major drawback, however, is the amount of direct mail that goes to the wrong address or fails to reach a customer who has moved. If a charity group, for example, is spending $1 per piece on printing and mailing — and 10 percent of the addresses are out of date — the wasted money can add up quickly on a mailing of 10,000.
Now, a Sun Prairie startup company has launched a unique web-based product that lets direct mail users update their own mailing lists to eliminate old or duplicate addresses. TEC Mailing Solutions in April rolled out "MailListCleaner.com," a do-it-yourself address checking service available over the Internet.
Traditionally, large direct mail users have used a commercial printer or contracted with a specialized firm to check an address list. But the process can cost $500 or more and take days, a risk for advertisers or fund-raisers with a tight time frame.
TEC allows customers to do-it-themselves in minutes by uploading their own mailing list to MailListCleaner.com. For as little as $50 depending on the size of the list, the TEC site will check for duplicate addresses or invalid street names. Higher levels of service provide forwarding addresses for people that might have moved.
"The site was designed to help small businesses or non-profits with as few as 100 records or companies with millions of addresses," says TEC President Brian Euclide.
To make its system work, TEC Mailing Solutions pays $30,000 annually for a license to get access to the Postal Service database. About 100 firms nationally are licensed but Euclide maintains his company is the only one that offers an instant check over the Internet.
"There are other people playing in the same sandbox but we're the only one where you can sign in and download your address list immediately," he says.
An Internet search of several address checking services seems to confirm Euclide's claim.
Address checking is even more vital these days now that the Postal Service has implemented new rules that penalize customers who don't add the four extra digits on a ZIP code – the so-called "Zip + 4." Mass mailers who don't update their address lists at least once each quarter are now also charged a higher postage rate.
"Our product can really help people meet those requirements," says Euclide, 41, a Cedarburg native who spent his career in the commercial printing industry, including a stint with Perry Judd, before starting his own business in 2007.
And the Postal Service is more than happy to work with companies like TEC that can help eliminate the piles of dead letters. One of the biggest inefficiencies in the system is the amount of "Undeliverable as Addressed" mail or UAA, a cost estimated at $1.9 billion annually.
"Brian has been a tremendous partner for us," says Karen Cronin, a spokeswoman for the Postal Service who works out of the Milwaukee Street office. "He knows more about this stuff than anybody else."
Cronin admits it can be difficult to navigate the new postal regulations, which offer vastly different pricing depending on how mailings are handled or addressed.
"Things have become so specialized, a lot of customers need a consultant to figure it out for them," she says.
TEC counted $1.2 million in sales last year and maintains a staff of seven at its office in the Liberty Square mixed-use development on Sun Prairie's north side. Euclide says the recession has cut into business this year but he's bullish on the long-term prospects of the direct mail industry.
"People love the feel and texture of holding a piece of paper," he says. "It's still the most cost effective way to get your message in front of the right person."
Industry surveys also show that direct mail remains effective, with a response rate running around 6 percent, according to the Direct Marketing Association, a national trade group. That compares to a response rate for e-mail of less than 1 percent, the group says.
So far, most of TEC's business has been working directly with large commercial printers and mailing houses in helping their customers with mailing lists. But Euclide sees MailListCleaner.com — which is logging in about 1,500 unique users per month — as the best chance to grow the firm.
TEC is also getting ready to roll out another Internet-based product called MailPieceTracker that would allow direct mail users to see if their mailings actually arrived on time.
"I just love to sit around and dream this stuff up," says Euclide, who has a degree in industrial technology from UW-Stout and an MBA from Cardinal Stritch University.
One advantage to an Internet business, Euclide says, is getting access to a wide range of customers from across the country. He says MailListCleaner recently helped a Florida auto dealer update its direct mailing list. Of the 153,000 names on the list, more than 70 percent were duplicates.
Considering a typical postage cost of 25 cents and printing cost of approximately 16 cents for a mailing of that size, the savings was about $41,000 for the auto dealer.
"The commercial side of the business is limited and shrinking," says Euclide. "But I really think there is an opportunity here."