07-22-2010
Plug-in Prius hits local streets
Kathy Gresey
The Lake County Journal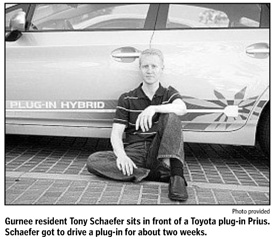 GURNEE -Tony Schaefer's dedication to communicating about the Toyota Pruis recently landed him a once-in-a-lifetime opportunity.
Schaefer, of Gurnee, owns a 2004 Prius and for years has been writing about the hybrid electric car online at sites such as www.chicagoprius-group.com.
That Internet involvement ultimately caught the attention of Toyota employees, who eventually asked Schaefer whether he'd be interested in driving a pre-production Toyota plug-in Prius for about two weeks.
After checking his calendar, Schaefer jumped at the chance.
One of the places he got to drive the car - which differs from a traditional Prius in that it has three battery packs instead of one; is more fuel efficient; and has a plug for charging - was the fifth annual Green Drive Expo, which took place July 17 and 18 in Madison, Wis.
The event brought together green drivers from around the nation to promote awareness and understanding of hybrid electric automobiles and other vehicles that can reduce pollution.
"It's not that [I drive a Toyota Prius] because I'm in love with Toyota," Schaefer said of his involvement with the hybrid car. "I do it because it's the right thing to do for so many reasons."
One of the more unusual stipulations of Schaefer's agreement to drive the plug in was that he would be able to communicate anything he wanted to about It - good or bad.
In a posting at priuschat.com dated July 15, Schaefer wrote the following about the vehicle:
"So far, not one single person has pointed or waved or in any way indicated that they recognized or even understood what I was driving. I suppose I shouldn't really expect it; most of them are too busy texting to to read the vinyl badging. Note to Toyota, on the production version, if you want the younger generation to notice the car, spell it 'pLU9·IN hY8R1id.' You're welcome."
Meanwhile, back at the Green Drive Expo, organizer Eric Powers was thrilled that Toyota allowed Schaefer to drive a pre-production car to a Midwest event - as opposed to a place like California.
"That's an honor'," he said.