07-08-2010
The Green Drive Expo brings alternative cars to Madison
Not all vroom and doom
Isthmus
David Medaris on Thursday 07/08/2010

"The money I was going to spend was the most I'd ever spent on a car," Eric Powers remembers. The founder and manager of next week's Green Drive Expo is explaining his conversion from longtime muscle-car enthusiast to green-car proponent. There was an epiphany: Get a vehicle that would provide the best possible gas mileage. He settled on a used Honda Insight hybrid: "It was a big
revelation."
Powers launched HybridFest as a low-key alternative to commonplace gatherings for sports-car and classic-automobile enthusiasts. Three years later, he ditched "a full-time, great-paying" health-care gig "with benefits and a pension" to plunge head-first into event management, steering HybridFest's evolution into the Green
Drive Expo.
Now in its fifth year, the annual convo brings the latest in green-car technology and prototypes — along with leading electric-car advocate Chelsea Sexton, featured in the 2006 documentary Who Killed the Electric Car? and the forthcoming Revenge of the Electric Car — to the Alliant Energy Center during the weekend of July 17-18.
If revenge is indeed at hand for devotees of more fuel-efficient and lower-emission cars, they still confront substantial obstacles as the first plug-in hybrid electric vehicles (PHEVs) and other electric-car prototypes emerge from the research-and-development pipelines of leading auto firms. Among the biggest hurdles is the pairing of the qualifier "green" with the noun "car." Environmental purists argue
that this is an oxymoron, pointing out that the cars must still be manufactured, shipped to dealers and their batteries charged from a domestic power grid that relies heavily on coal.
But even if a car is not green in the absolute, zero-carbon-footprint sense, it may be greener — and less expensive to fuel — than what most of us are driving. From hybrids that combine a gasoline engine with an electric motor for improved fuel efficiency and sustained range, to PHEVs, to ethanol- or hydrogen- or biodiesel- fueled cars, choices are multiplying and yet more technologies being explored. The cool factor has lured a growing number of early adopters to buy PHEVs by the likes of Toyota, Ford and Tesla Motors, whose sporty electric roadster costs a pricey $109,000 but is, Powers notes, "crazy fast."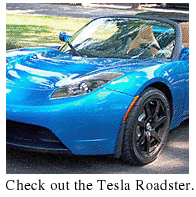 He has been behind its wheel and in its passenger seat. It can accelerate from zero to 60 miles per hour in 3.9 seconds, he says, evoking "the rush of this instant speed" without the shake and noise of a throaty V8 Camaro. "Smooth acceleration, no shift point, just pure speed," he marvels. (The California automaker's IPO last week saw a comparable thrust, soaring from $17 per share in its first day to more than $30 before resettling around $23 in its second day.)

Powers, 41, notes such gusto has been building since the inaugural HybridFest. The year that gas prices flirted with $4/gallon sparked a surge in attendance, he remembers. Though still a niche market, models like the Insight and Toyota's Prius have sustained interest. Now, says Powers, "we are right on the cusp" of mass-produced electric cars. "Because of that, everyone wants to get their message out there."
In a sputtering economy, interest should grow, he contends. A variety of makes, models and prototypes will be on display at the Expo. Its displays will fill 30,000 square feet of Exhibit Hall B at the Alliant Energy Center, with one of the facility's parking lots fenced off for test drives.
And they may dispel misconceptions attached to greener vehicle alternatives. Among the most persistent: Electric-car batteries are expensive and must be replaced several times over the life of the vehicle. Bunk, says Powers. "You can replace a battery for $1,000, at most, yourself," he explains. His Honda Insight has 130,000 miles on its odometer, he adds, and his brother's Insight has logged
230,000. They have yet to replace their batteries.
The Green Drive Expo is free with paid admission to the Dane County Fair, though a separate $75 membership fee includes a T-shirt, goodie bags, free admission to the Dane County Fair for members and their kids (under 16), discussion forums and other exclusive activities starting Thursday night and continuing throughout
the weekend.
Powers likens the gathering to a family reunion highlighted by the popular MPG Challenge to determine who can get the best mileage out of their vehicle over a course of 20 to 30 miles. Last year's winner averaged a whopping 195 miles per gallon.
And yes, Powers says, he knows at least one enthusiast who plans to drive up from Chicago to show off his Tesla.
Green Drive Expo
10 am-5 pm Saturday, July 17; noon-5 pm Sunday, July 18,
Alliant Energy Center
Exhibition Hall.
Free with paid Dane County Fair admission.