05-20-2010
Doug Moe: Play ball! Senior Softball League batters up
Wisconsin State Journal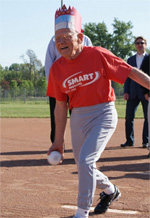 Jesse Kehres throws the ceremonial first pitch Wednesday at Goodman Park, launching the Greater Madison Senior Softball League. Photo by Blane Einbeck - Smart Motors
Wednesday morning, on opening day under a bright blue sky at Goodman Park, Jesse Kehres was getting ready to throw the ceremonial first pitch.
Kehres had been drafted after it became evident the original choice, Mayor Dave Cieslewicz, would be bleary-eyed from late night Edgewater duty with the Madison City Council.
With all due respect to the mayor, Kehres was the perfect guy to deliver the first pitch.
Someone asked, "How long has it been since you played?"
Kehres thought for a moment. "I guess 40 years."
The calendar insists that Kehres, at 87, is the oldest member of the new Greater Madison Senior Softball League. He could have fooled the crowd that gathered Wednesday for the league's opening day, which featured four games on Goodman's two diamonds.
Kehres had spring in his step and good humor in his voice. Asked what position he would play once the games started, Kehres replied, "Second base. I figure that's about as far as I can throw the ball."
There was plenty of good will to go around Wednesday. Ever since word started circulating last winter that two childhood chums, Ray Blum and Bob Ruhland, were trying to organize a softball league for Madison-area seniors, the response has astonished them.
"The phone just rang like crazy," Blum was saying Wednesday.
Ruhland, for his part, was vacationing at the Daytona 500 in February, "where I kept getting calls from strangers" back home anxious to sign up for the league.
A total of 125 players (minimum age: 55) eventually came on board, and a draft was held that yielded eight teams, all sponsored by Smart Motors. Madison School and Community Recreation and the Madison Parks Department are supporting the league, though players are coming from as far away as Janesville and Wisconsin Dells. The average player age is 64. Blum, 63, and Ruhland, 62, are co-commissioners.
It all started a year ago, when Blum looked out the window of his home and saw a softball game in progress at a nearby park. Blum, once good enough to have played on an MSCR all-star team that played at Breese Stevens against fast-pitch legend Eddie Feigner, hadn't been on a diamond in decades.
Something about watching that game out his window last spring made Blum reach for a phone and call Ruhland, whom he first met in grade school at St. Bernard's on Atwood Avenue. They had played together on the school softball team and have been friends since.
Ruhland, who once played for Rod Peterson's renowned Farm Tavern team, later kept a hand in umpiring, but he, too, had been away from the game for a decade when Blum called last spring.
The two friends checked around and found no senior league in Madison. From winter trips to Florida, Blum knew senior softball was big in the state, and in February he and Ruhland attended a game in St. Petersburg. They began drawing up rules for their fledgling Madison league: No sliding or metal spikes, but softball experience preferred, because they wanted the games to be competitive.
Once they shared their plans with local media, the calls poured in, and the league blossomed.
At 8:30 a.m. on Wednesday, Blum and Ruhland stood on the Goodman Park pitcher's rubber and addressed a large group that had gathered.
"What a great day for softball," Blum said. He thanked Smart Motors and the city, and then Ruhland said, "Each of our players believes you're never too old — until you're cold."
They then introduced Kehres, who walked to the mound for the ceremonial first pitch wearing a paper crown on which was written: "Never Too Young."
His catcher, Chuck Harris, 82, of Stoughton, took a step in front of the plate. "I thought maybe he couldn't throw it that far," Harris said later.
Kehres grinned, wound up and pitched the ball over Harris' head.
Heck, they should make him an outfielder.
Posted in Doug_moe on Wednesday, May 19, 2010 3:30 pm Updated: 3:37 pm.